Want access to all the Exclusive Events and Raffles?
Become an Old Glory DC 2022 Season Ticket Holder
Make sure you have access to ALL the amazing exclusive experiences by purchasing your 2022 Season Tickets today!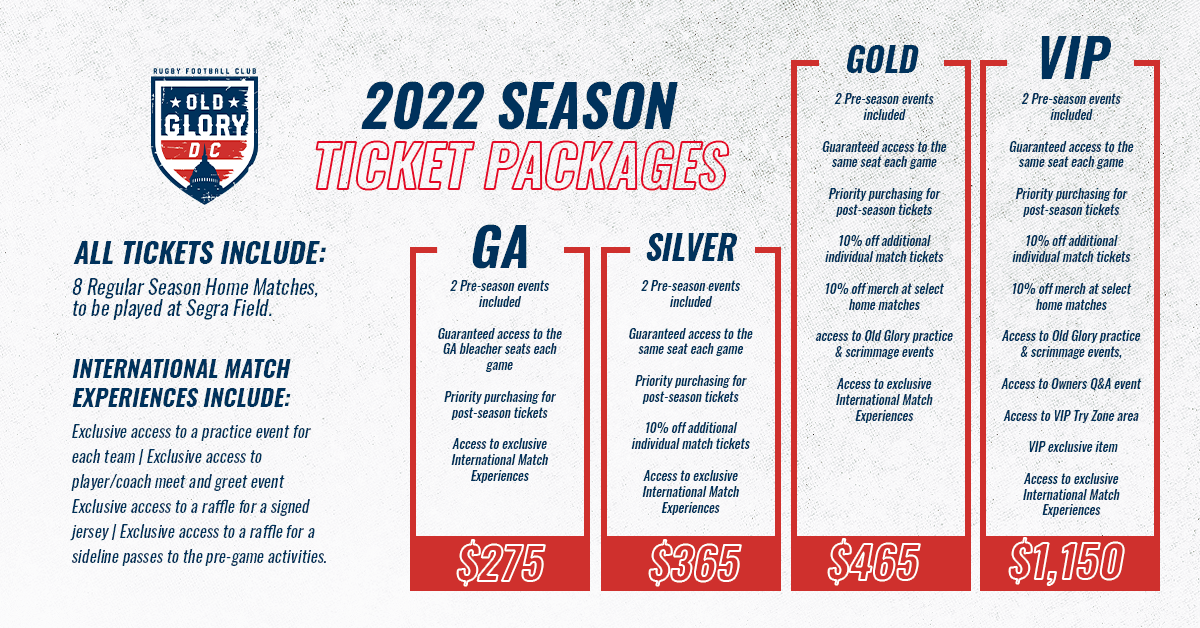 Celebrate Rugby All Weeklong!
Events leading up to the 1874 Cup
Old Glory DC announces a week-long schedule of community events leading up to the inaugural 1874 Cup featuring USA Eagles and New Zealand All Blacks at FedExField on Saturday, October 23 at 3 PM.
The lineup of events features an exclusive Night with the Pros experience, US Rugby Foundation's Lost Afternoon Luncheon, a US Eagle's open training session, and a variety of exclusive and open-to-public opportunities to celebrate rugby in our Nation's Capital all week long. Check out the slated events and how to participate!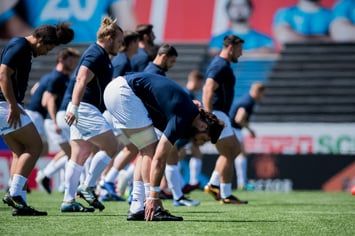 2022 Season Ticket Holder USA Rugby Open Practice [Exclusive]
TBD
Old Glory kicks off the week with an Open Practice hosted by the USA Eagles, exclusive to 2022 Season Ticket Holders. Photos and videos during the practice session are prohibited. Season Ticket Holders will be notified of the location and key information of the open practice 48 hours before the event.
The Rugby World: Past, Present, and Future [Virtual]
Wednesday, October 20
1:30-2:15 PM
Hosted by Mount St. Mary's University and The Global Rugby Leadership Institute Academic Network, The Rugby World: Past, Present, and Future is a virtual forum for understanding Rugby Union Football in the USA and globally, and six sessions will be featured over the day with panelists from all over the world. Come to session five, titled "Growing Rugby in the USA," and learn from the minds behind the 1874 Cup, including Old Glory DC Chairman Chris Dunlavey and Left Field Live Commercial Officer Ben Dunn. The forum is free for all to attend. Learn more and register here.
A Night with Pros [Exclusive]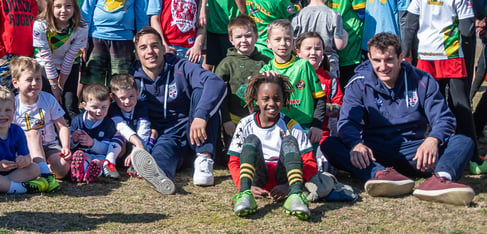 Thursday, October 21
6-9 PM
Join us for a night of rugby skills, giveaways, mixing and mingling opportunities, and touch rugby with Old Glory players, USA Rugby players, and special guests!
6:00 - 7:00 PM: An U10 clinic hosted by professional rugby players will kick off the event. Athletes under ten will work on fundamental rugby skills through fast-paced, fun drills and games.
7:00 - 8:00 PM: While the Old Glory DC U19 Academy practices on the pitch, join Old Glory and professional rugby players on the sideline for intimate one-on-one conversations, Q&A sessions, and more!
8:00 - 9:00 PM: For the last hour, we are dividing into teams and playing rugby! Watch as our Academy gets to play touch with our amazing visiting pros!
This event will be exclusive to Old Glory rugby academies, community partners, and 2022 season ticket holders. Location and key information will be sent 48 hours before the event.
Mattie and Eddie's Late Night Social [Open to All]
Thursday, October 21
8 PM
Mattie and Eddie's, 1301 S Joyce St D-1, Arlington, VA 22202
Join Old Glory players, staff, and special guests for this twilight social. We're taking over the OG Trophy Room for small bites, drinks, music, and mingling!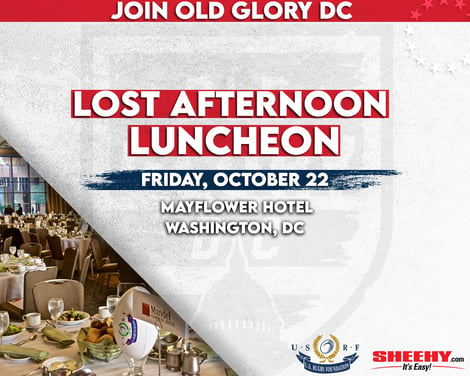 US Rugby Foundation's Lost Afternoon Luncheon [Open to All, Tickets Required]
Friday, October 22
11-4 PM
Mayflower Hotel - 1127 Connecticut Ave NW, Washington, DC 20036
Join Old Glory DC and the United States Rugby Foundation at the Lost Afternoon Luncheon in Washington, DC, at the Mayflower Hotel on Friday, October 22. Enjoy an afternoon of socializing with old friends, teammates, and new acquaintances from throughout the world of rugby the day before the US Men's Eagles host the New Zealand All Blacks at FedExField.
As with past Lost Afternoon Luncheons, there'll be a stellar group of speakers. This year's lineup includes:
US Eagles Men's National Team head coach Gary Gold

Major League Rugby Commissioner George Killebrew

Former United States Eagles captain Blaine Scully

Director of the North America Youth Rugby Referee Program Ken Fraine

Former Old Glory DC and Rugby World Cup Champion South African Springbok, Tendai "Beast" Mtawarira.
Learn more and register here.
Rumble for Rugby Ride with Patriot Harley-Davidson [Open to All]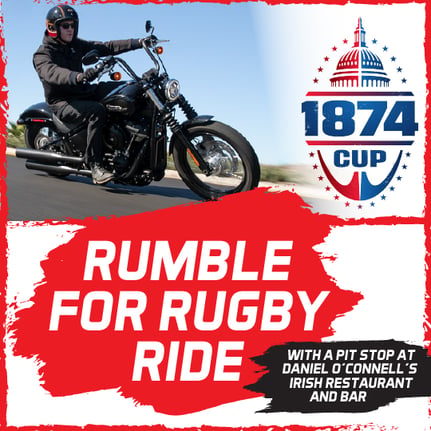 Saturday, October 23
11-4 PM
Hop on your motorcycle and ride with Patriot Harley-Davidson to the 1874 Rugby Cup. The ride begins at Patriot H-D, with a pit stop at Daniel O'Connell's Irish Pub. At 2:30 PM, ticket-holding riders will head over to FedExField, and non-ticket holders can stay at Daniel O'Connells and enjoy the game.
1 PM: Registration begins at Patriot Harley-Davidson
1:30 PM: Kickstands Up
2:30 PM: Ticketholders leave for FedExField
3:00 PM: Gametime
Old Glory Party Headquarters [Open to All, tickets required to 1874 Cup match]
Saturday, October 23
12:00 - 3:00 PM
FedExField - 1600 Fedex Way, Greater Landover, MD 20785
First to arrive, last to leave. Come hang out with the OG squad before kickoff! We will have our games and inflatables, cornhole boards out, music, and merchandise set up to help you get ready for kickoff. So grab some food and drink, and come on over!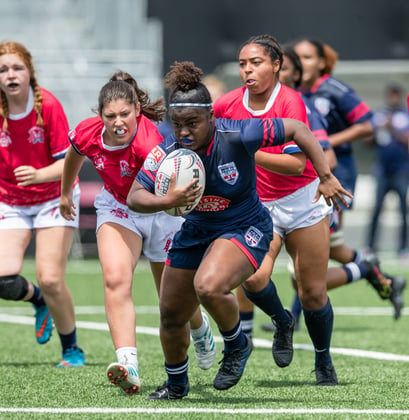 Old Glory U19 Academy Girls and Boys Matches [Open in All]
Sunday, October 24
11:00 AM
Naval Academy - 64 Greenbury Point Road, Annapolis, MD 21402
The haka is over, and you partied all night long, but the fun isn't over. Come wind down in the Sailing Capital of the U.S. and watch Old Glory's girls and boys U19 Academy Squads take on the North Carolina Girls Select Side and Southern California Boys Select Side. Future OGs and USA Eagles will take the pitch for this exciting doubleheader.
Exclusive Raffles for 2022 Season Ticketholders
That's not all. Old Glory DC will raffle off exclusive 2022 Season Ticket Holder experiences throughout the week to celebrate the rugby community! Exclusive 1874 Raffles include:
Invite-only Captain's Run Access at FedExField on Friday, October 22

Once-in-a-lifetime Pregame Sideline Access for All Black Haka

Team-Signed 2022 USA Rugby Jersey

Team-Signed 2022 New Zealand All Blacks Jersey
No additional entry is required for the current 2022 Old Glory Season Ticket Holders. Winners will be notified via email.
Are you interested in entering the raffle? Become a 2022 Season Ticket Holder today!